Posted on June 25, 2015 at 10:17 am
Treehouses are awesome. Up off the ground, surrounded by shade, away from everything a child wants to avoid – siblings, bullies, parents and all earthbound responsibilities. For some of those reasons, treehouses are pretty awesome for adults too and the last few years treehouses have elevated (sorry) their game. No longer scrap 2 x 4's and some salvaged plywood devoid of handrails, treehouses have taken a turn towards the fanciful. Nationally, people can watch, or at least those with basic cable can watch complete tree makeovers on Treehouse Masters. In the NW, women and men can get away and into the trees by booking treehouse vacations.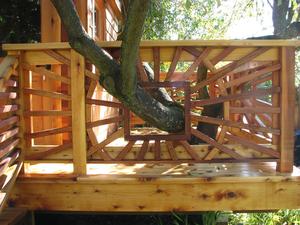 Locally, there are carpenters dedicated to tree-centric building. Schuyler Silva of Elevated Living helps Portlanders live out their dream of having a cool place to spend time in the trees. How does someone whose expertise is in technical theater, specifically, set building, end up specializing in designing and constructing treehouses? The answer, "I have yet to meet anyone who frowns at the mention of a treehouse. They are fun, exotic, and encourage play in everyone. It is primal to climb up into a tree, explore, and learn."
Schuyler was kind enough to share his wisdom of tree carpentry with us: The most important aspect of treehouses: "Safety is #1. The tree is a close #2. It is your foundation. If you don't treat it right, it can die and/or even rip your treehouse apart. Treat it with respect. The next word of advice is that it is more expensive than you think. There is specialty hardware, specialty tools, equipment, and materials. Many people remember the days of their fathers building a treehouse on the weekend for next to nothing. For a structure that is safe and will last for 20+ years, it takes a bit more."
Leland Hull, member of the crew at Barefoot Builders and volunteers with Friends of Trees as a Summer Inspector, concurs about the importance of tree selection, adding, "The tree is the foundation of the treehouse. When determining if a tree is a good candidate it is important to pick a species that has good structural integrity both in it's roots and it's canopy.  The health of the tree plays a big part on it's ability to hold a treehouse safely so doing a thorough inspection is always essential."
When you build enough treehouses, you eventually develop favorites, Schuyler likes a special conifer, "I've designed my Classic model to be easily installed on straight trunked trees, specifically the Douglas Fir. We have so many of these massive treasures here in the PNW, so I have designed a treehouse to match. I love the Doug Fir so much, my dog's name is Doug Fur."
Treehouses generally don't need permitting in Portland, but tree-centric building comes with it's own set of issues that could vex the best DIY carpenter, Schuyler adds, "Also, as this is what I do, I would suggest hiring a professional. There are so many considerations when building a treehouse. If anything, bring on a professional as a consultant."
Thanks to Elevated Living and Leland Hull. Check out Leland's tumblr.